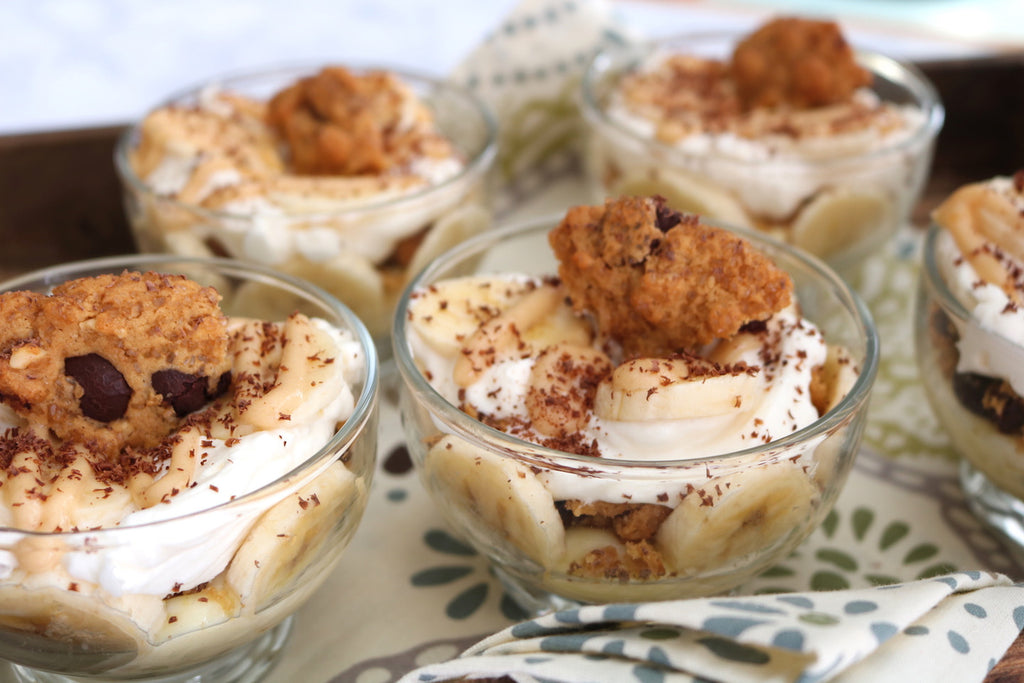 Banana Pudding is one of the most popular Southern desserts, especially at Easter table. So this year, we've put our own twist on the comforting classic. Some people might find it scandalous, but the vanilla wafers are out! Those classic cookies originally made the dessert popular, but in terms of taste, they can't compete with our handcrafted cookies. Our version layers the pudding with Peanut Butter Chocolate Chip Cookies. They taste just like grandma used to make, so there's no better way to upgrade one of our southern favorites.
It's easy to see why Banana Pudding is such a popular dessert. It's an easy way to feed a crowd, tastes great cold and is fairly simple to make. The most complicated part is probably making the vanilla custard. But if you can stir a pot, you've mastered the main technique! And yes, it's definitely worth the extra time. Skip the pudding mix and make your own custard for a truly delicious Banana Pudding.
And to really boost the flavor, we've drizzled a decadent Peanut Butter Cream over the pudding. It's a snap to stir together and tastes amazing over pancakes, waffles, or even chocolate brownies. Simply whisk your favorite peanut butter with heavy cream and a little sugar to sweeten the mixture.
So if you're in charge of making dessert for Easter dinner this year, treat every one to our Chocolate Peanut Butter Banana Pudding. And just to sweeten your day, we're offering a special discount when you order cookies for your pudding. Enjoy 20% off our Peanut Butter and Peanut Butter Chocolate Chip cookies for the rest of the month. Use the code PEANUT20 when you checkout. Enjoy! 
Chocolate Peanut Butter Banana Pudding
Serves 8-10
2/3 cup plus 1/4 cup granulated sugar
2 tablespoons cornstarch
1/4 teaspoon salt
2 1/4 cups whole milk
4 large egg yolks
1 teaspoon vanilla extract
2 tablespoons peanut butter
6 tablespoons heavy cream
4 ripe bananas, sliced
24 peanut butter chocolate chip cookies, broken into chunks
3 cups whipped cream
1 square chocolate (for garnish) 
Whisk together the 2/3 cup sugar, cornstarch and salt in a heavy bottomed sauce pot.
Whisk in the milk and egg yolks until well combined.
Cook the mixture over medium-low heat, stirring constantly, until thickened.
Remove from the heat and stir in the butter and vanilla.
Place in the refrigerator and let cool completely.
Whisk together the peanut butter, heavy cream and 1/4 cup granulated sugar until combined. Add more cream as needed to make a squeezable consistency.
Place the peanut butter mixture in a piping bag or a squeeze bottle.
Build the banana pudding in layers in a baking dish or individual bowls.
Start with a layer of peanut butter chocolate chip cookies.
Spread the pudding over the cookies.
Top the pudding with a layer of sliced bananas.
Drizzle with the peanut butter/heavy cream mixture.
Add another layer of cookies
Top the cookies with the whipped cream.
Add another layer of sliced bananas.
Drizzle the top with the peanut butter/heavy cream mixture.
Grate the chocolate over the top and garnish with a piece of cookie.