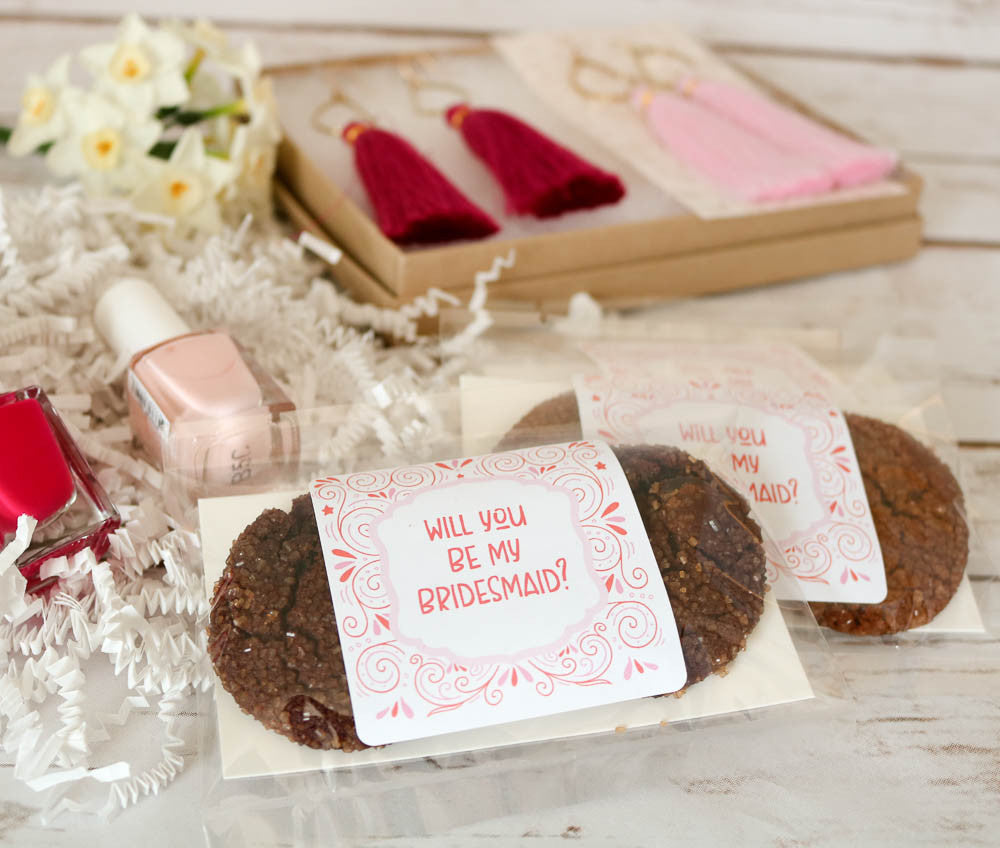 And there's no sweeter way to pop the question than with a beautiful bridesmaid proposal box! With our custom two-packs, you can design a sweet bridesmaid proposal they'll be sure to cherish. The labels are designed by Lettered Olive, Couture Wedding Letterpress experts here in Charleston with impeccable style.
We'd love to share a few memorable ways you can incorporate our custom cookie favors into your themed box. Use the cookie to ask the question and the other favors to tell a story. It's a thoughtful and fun way to ask your best friends to be a part of your special day. 
Wedding Day Accessories
We love the idea of including a cute pair of earrings and coordinating nail-polish that they can wear on the wedding day. It's traditional to honor your bridesmaids with a gift and this is a fun way to get everyone excited about the ceremony. For a Lowcountry wedding, we fell in love with these gorgeous oyster-inspired, Silk Tassel Hoops designed by Carson Lunceford of Talley Collections. With a signature oyster-shaped hoop and available in a variety of colors, they help tell your wedding story with a bright pop of color. Toss in a coordinating nail-polish and your friends will definitely say 'I do!"
Signature Cocktail Box
Get the party started early with a cocktail-themed proposal box. We chose a festive Moscow Mule for our theme. Made with Vodka, lime juice and ginger beer, the Moscow Mule is served in a signature copper mug. (You can can even have the mugs personalized for a unique gift!) The classic cocktail is additionally refreshing when mixed with Ginger Beer from Cannonborough Beverage Co., a natural soda company here in Charleston.  And don't forget a little medical kit with some pain reliever and mints. It will help the girls bounce back from the rehearsal dinner and get ready for main event. 
Charleston Snack Basket
Walking down the aisle can work up the appetite and no one wants hungry bridesmaids at the ceremony!  So give your friends a taste of the Lowcountry with these local goodies. We chose a mix of savory and sweet to please all the taste buds. Lowcountry Kettle chips have fun southern flavors like Spicy Pimento Cheese and Mustard BBQ Sauce. Seasoned with Bulls Bay Saltworks, these crispy potato chips are perfect with a chilled beverage. Add in the BBQ chicharrones from Mercantile and Mash for a unique southern treat. We like to round out the basket with a decadent local chocolate bar. The Sea is for Caramel bar from Sweeteeth combines caramel with dark chocolate and sea salt. It's their most popular bar and sure to be your bridesmaids new favorite as well.
No matter how you say it, your bridesmaids will be so excited to join the wedding party when they see these proposals. If you're ready to pop the question, check out our full catalog here or give us a call. You can customize your treats down to the tastiest detail, including colors, design and the message!