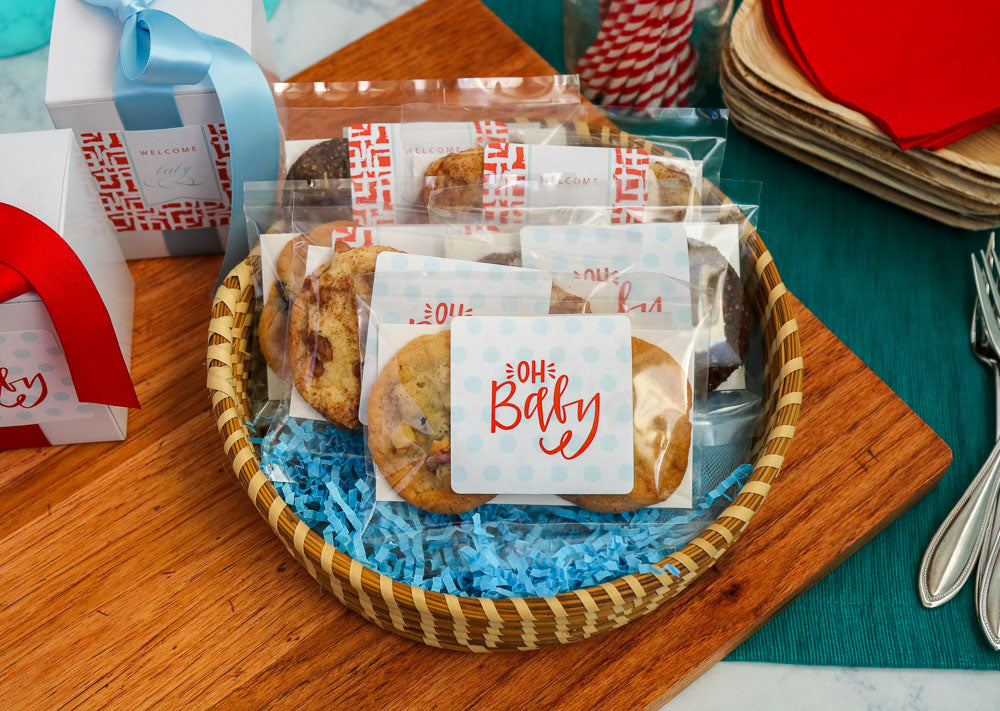 There's nothing sweeter than celebrating a new baby on the way! With fun decor, tiny, sweet gifts and lots of ooh-ing and ahh-ing, it's such a heartwarming gathering for friends and family.
It used to be that there was only one type of baby shower - it was for first-time moms a month before their due date and was only attended by other women. But today there are so many ways to shower the new parents with love and blessings – both before and after the birth. As the lucky host, you can plan a co-ed baby shower with the whole family, offer to host the reveal party to announce the gender or even organize a post-birth gathering called a 'Sip and See' that includes the new arrival!
With so many ways to celebrate, we've got one delicious way to make your party planning easier - with cookies! These sweet treats come in any of our hand-crafted flavors and are available in snackable two-packs as well as cookie gift boxes filled with six cookies for more substantial gifts. We've got three sweet ways you can incorporate cookies into your upcoming Baby Shower.
Baby Shower Favors


If you host a baby shower for the new parents, small party favors for the guest are traditional. Typically, it's something small but specially chosen for the event. And we think the best favors are the ones you can eat. Our cookie favors are a sweet way to say thank you for their presence AND presents! 
Gender Reveal Parties

Gender reveal parties are an exciting way for the new parents to find out whether they should start planning for a little boy or girl! With our semi-custom two-packs, you can plan a sweet gender reveal. We love seeing these beautiful cookies displayed with coordinating pink or blue crinkle cut paper to highlight the surprise. Tuck a few toys alongside the cookies and place the whole gift inside a plain white box. Seeing the look on the parents face when they open the box is priceless - get your camera ready!
Sip and See
If you didn't get a chance to celebrate the new baby before the birth, a 'Sip and See' is the perfect way to shower the happy family. It's a casual drop-in, giving relatives and friends a chance to meet the newest member of the family. Typically thrown between 2 and 8 weeks after the baby arrives, you should provide some light snacks and of course, something to sip on! It's always fun to serve a little bubbly but tea or coffee are also perfect for daytime celebrations. You can design your own labels like Caroline did or simply choose from our ready-to-order designs.
So to everyone out there planning a baby shower, best wishes and don't forget the cookies!
-------------------------------------
*The semi-custom baby shower two-pack designs featured in this blog were all created by
 

Lettered Olive
– an amazingly talented Charleston stationer.  As the premier choice for couture wedding invitations, we are thrilled to showcase their designs for our delicious favors. 
You can choose one of their many semi-custom designs (a few are featured above), or you can design your own fully-custom label. With their labels and our cookies, you can coordinate your cookie favors with custom text, your favorite flavors and your shower colors. If you're planning a baby shower, get in touch! We'd love to help you celebrate the new arrival with our cookies.