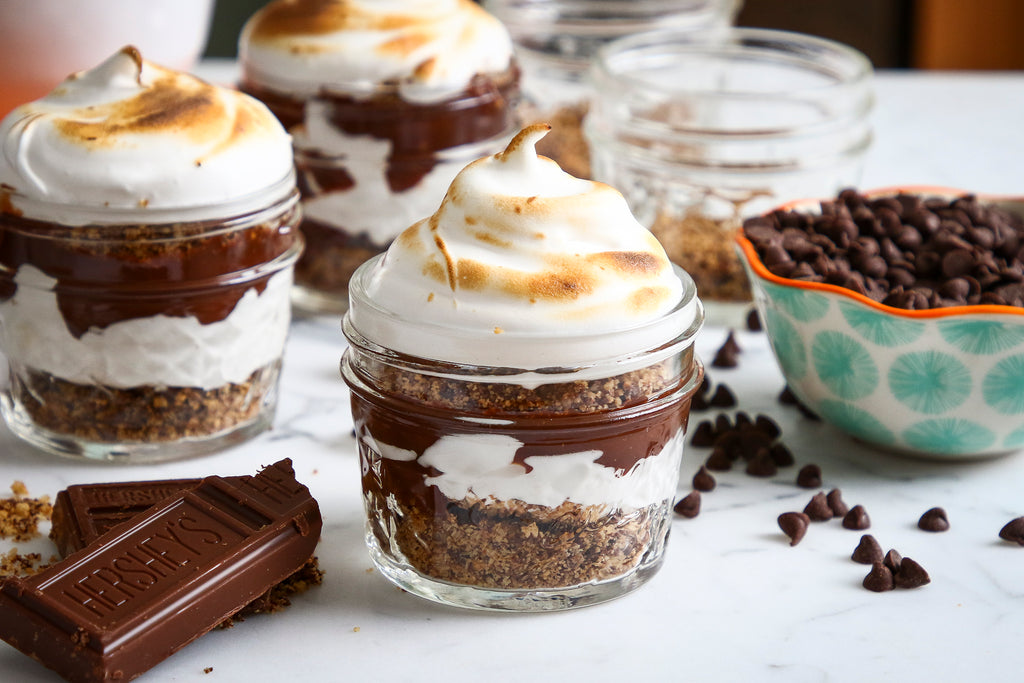 S'mores and summer-time go together like peas and carrots! And these no bake s'mores mason jar desserts are just what you need to make when you're craving the classic dessert but don't have a campfire at the ready. They're made with my Grey Ghost Bakery chocolate chip cookies for a sweet twist on the original recipe.
I loved making s'mores when I was at summer camp in the mountains of North Carolina, so it always brings me back to the days of camp songs and bunk beds. There's nothing quite like the smell of roasting marshmallows over a fire, and then quickly smushing the finger burning marshmallow between two graham crackers, with a square of Hershey's chocolate thrown in for good measure.
We occasionally talked our parents into letting us make s'mores at the beach too, if there was a fire on the beach. I didn't love that as much, though, because it's virtually impossible to get your marshmallow just perfectly browned without somehow getting a little grainy sand in there too! Especially since we always untwisted wire coat hangers to use as our skewers, and they always seemed to have a mind of their own when it came to wobbling all over the place. We weren't fancy enough to have special purpose skewers for hot dogs and marshmallows. So I really can't recommend sandy s'mores! 
Which is why I decided to create this recipe for mason jar s'mores. With layers of crushed Grey Ghost Bakery chocolate chip cookies, marshmallow meringue and chocolate ganache, they have the same delicious combination of goodness but without the sticky mess and burnt fingers! You can assemble the jars ahead of time, and keep them in the refrigerator until you're ready to serve. Just toast the marshmallows on top using a kitchen torch or broiler to give it that roasted marshmallow flavor that I love. 
As I think you all know, I clearly have a thing for cookies! So it's only natural that I had to figure out a way to work them into my s'mores recipe. Turns out, our Chocolate Chip Cookies hit a lot of the same notes as graham crackers: buttery, sugary, and with just a hint of sweet molasses. The addition of pecans adds a nice crunch, and the chocolate chips just add more chocolatey goodness to the dessert.
When you read through the recipe, don't be intimidated by the marshmallow meringue or the chocolate ganache. Those are just fancy baking terms for marshmallow fluff and chocolate sauce, so feel free to substitute with those ingredients if you're short on time. But if you are able to, it's worth the effort to make the entire recipe as is. It really elevates this simple summertime dessert.
Not only do these little desserts taste amazing, but the layers also look so pretty in the mason jars. And everyone always has extra mason jars lying around the house! So put them to good use and make this sweet treat for all of your summer get-togethers, from backyard BBQs to family beach vacations to even baby and wedding showers.
I hope you enjoy these no bake mason jar s'mores, and treasure the last precious days of summer!
No Bake S'mores Mason Jar Desserts

Serves 6
Chocolate Ganache:
1 cup good quality semi-sweet or milk chocolate, such as Hershey's, chopped
1/2 cup heavy cream
1 tablespoon corn syrup
Place chocolate in a mixing bowl and set aside.
Place heavy cream and corn syrup in a small sauce pan, and heat just until mixture starts to steam. Do not let it boil!
Immediately pour hot cream mixture over the chocolate in the bowl, and let sit for a few minutes.
Stir with a whisk until chocolate is completely melted and smooth.
Marshmallow Meringue:
2 egg whites, room temperature
Dash salt
1 cup marshmallow cream
Place egg whites and salt in the bowl of a stand mixer. Beat until soft peaks hold.
Gradually add in the marshmallow cream, beating until stiff peaks hold. 
S'mores Mason Jar Desserts:
6 Grey Ghost Bakery Chocolate Chip cookies, crushed
Chocolate ganache
Marshmallow meringue
Layer the cookies, ganache and meringue into mason jars, ending with the meringue on top.
Garnish with mini marshmallows and place in refrigerator to set.
When ready to serve, remove jars from refrigerator. Use a kitchen torch to lightly toast the marshmallows on top. Or if you don't have a torch, you can use your broiler set on low. Be sure to watch very carefully, though, so the marshmallow does not burn!