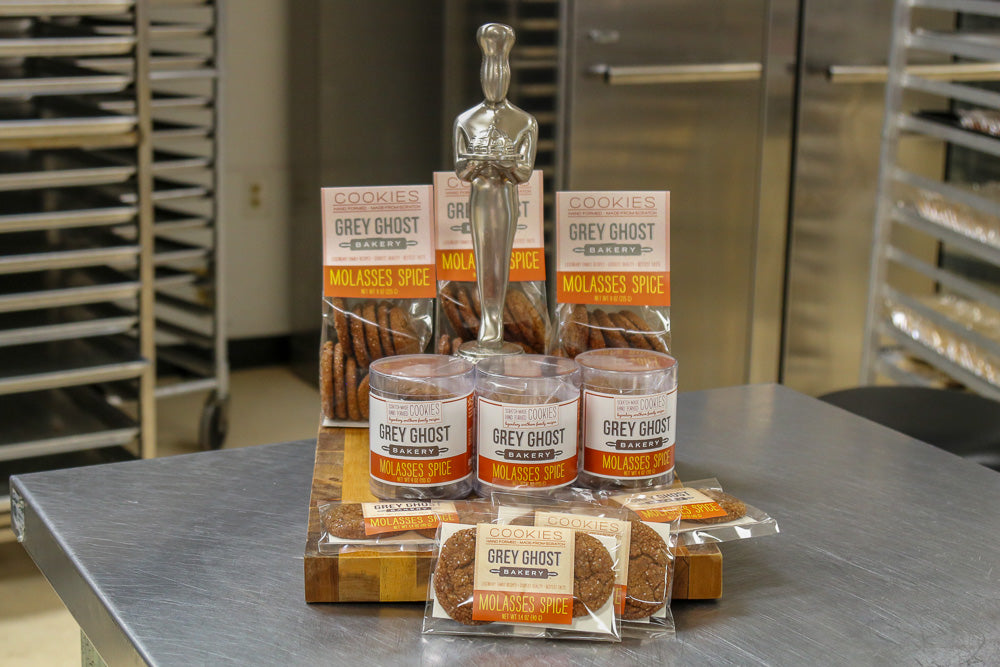 I'm so excited and honored to tell you all that our Molasses Spice cookie has won a
Silver sofi Award in the Cookie Category
this year! The
sofi Awards
are like the Oscars for the Specialty Food business, and we are incredibly honored that Grey Ghost Bakery has won its second award (our Lemon Sugar cookie won a
Silver sofi
in 2014.)
I usually don't admit my favorite of our cookies, since that feels a little like choosing my favorite child (and no, I don't have a favorite son--all three are wonderful men!) but if I'm completely honest, Molasses Spice is my favorite. And I'm so excited that it was a winner this year - it's is one of our best sellers so we know it's very popular with lots of folks! And now, it has its very own sofi!
I've been making a version of our Molasses Spice Cookie since I was a little girl. When I turned 8, my friend Holly Drafts gave me a copy of
The Betty Crocker Cookbook for Boys & Girls
as a birthday present. That was the beginning of a lifelong love of cookbooks and was the first cookbook in what would become a large cookbook collection. One of my favorite recipes from that book was a
Molasses Crinkle cookie
. I started baking that cookie as a child and continued to bake the same cookie throughout the years. I've always been a big Ginger Snap fan and loved the chewiness of the Molasses Crinkle--and my children loved that cookie too!
When I started Grey Ghost Bakery, I wanted to share our family's favorite cookies with others, and knew that our favorite Molasses cookie would be in the list. I made some special changes to the original recipe to make it even more delicious, and Grey Ghost Bakery's Molasses Spice was born! It's an old-fashioned flavor with a modern kick - and I hope you love it as much as I do.
Thank you to the Specialty Food Association for this honor!
Check out Katherine's acceptance speech on the SFA website
.