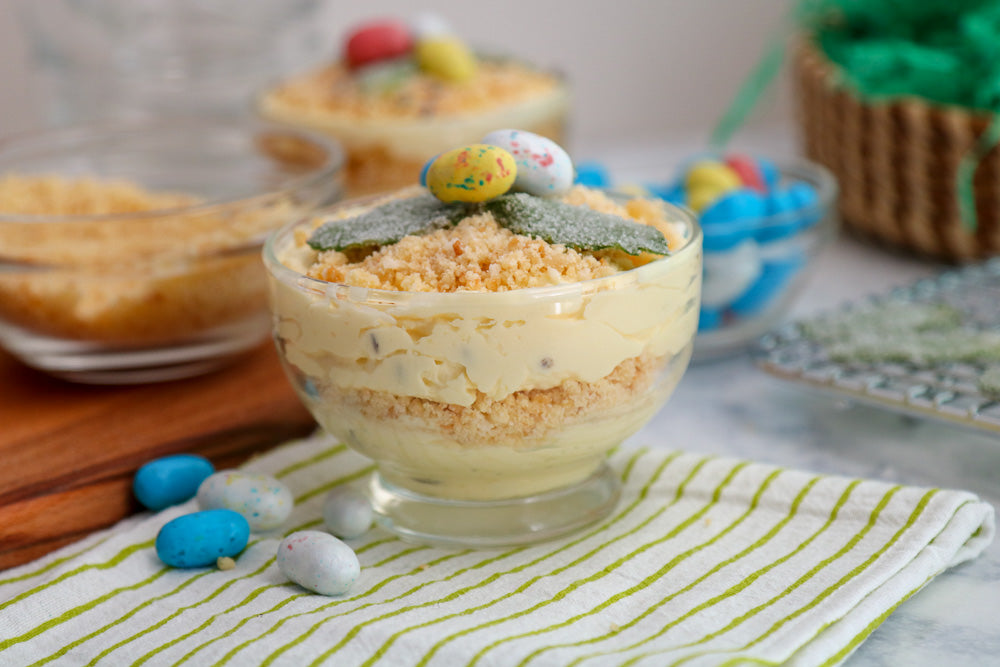 Are you looking for a simple Easter dessert the family will love? Try our recipe for Lemon Lavender Dirt Cake. Our sweet tart Lemon Sugar cookies are layered with creamy lavender vanilla pudding and topped with colorful edible decorations. It's super simple to make, fun to decorate, and even more fun to eat! 
Dirt cakes are an American invention. They're usually made with layers of pudding topped with crumbled chocolate sandwich cookies, resembling dirt. They are topped with gummy worms and even sometimes served in a terra cotta pot. It's a popular dessert for a potluck since it requires no actual baking. Plus kids of all ages love the fun presentation.
I know that when you think of dirt cake, you think of chocolate cookies. But since spring is right around the corner, we wanted to brighten it up with our Lemon Sugar cookies. And hey, not all dirt is dark brown! Since we're in Charleston, you could even look at this as more of a beach sand cake.
And since we're using our buttery, tart Lemon Sugar Cookies, we were craving a pudding layer to compliment those flavors. Lemon and lavender are perfect together so we added dried lavender buds to the the pudding layer. I love the floral aroma of the lavender with the bright crystallized lemon in the cookies. 
The best part of making dirt cake is the decorations! Since we're making this for Easter, we used sugared mint leaves for our greenery. To make them at home, you just need fresh mint leaves, egg whites and sugar. We followed the instructions here to make ours. Once our mint leaves finished drying, we nestled pastel chocolate eggs in the mint for an entirely edible Easter egg hunt!
This dessert is sure to be a favorite in your family. You can make each person their own mini-dirt cake or use one large dish to enjoy it family-style. No matter how you serve it, we hope you love it as much as we do. And if you make it at home, be sure to share a pic and tag us on Facebook or Instagram. We'd love to see all the sweet decorations!
Happy Easter from the Grey Ghost Bakery Family!
Lemon Lavender Dirt Cake
Serves 8-12
Dirt Cake:
12 Grey Ghost Bakery Lemon Sugar Cookies
4 tablespoons unsalted butter, room temperature
4 ounces cream cheese, room temperature
1 (3.5 ounce) package instant vanilla pudding mix
1 3/4 cups whole milk
1 tablespoon dried lavendar buds
About 3 cups Whipped Cream (recipe below)
Edible Decorations (optional)
Place the cookies in a food processor and pulse until completely crumbled. Set aside.
Place the room temperature butter and cream cheese in a mixing bowl. Using a mixer, beat on medium until smooth.
In a separate bowl, combine the vanilla pudding mix, whole milk and dried lavendar. Whisk until combined and beginning to thicken.
Add the pudding mixture to the bowl with the butter/cream cheese mixture. Mix on low speed until combined and smooth
Use a spatula to fold in the whipped cream.
Using a glass serving bowl or trifle, alternate layers of pudding and cookie crumbs.
Garnish with any fun edible candy, sugared mint, sugared flowers or even more cookies!
Whipped Cream:
1 cup heavy cream
1/4 cup powdered sugar
Place the heavy cream and powdered sugar in the bowl of a stand mixer.
Whip the cream until medium peaks form.