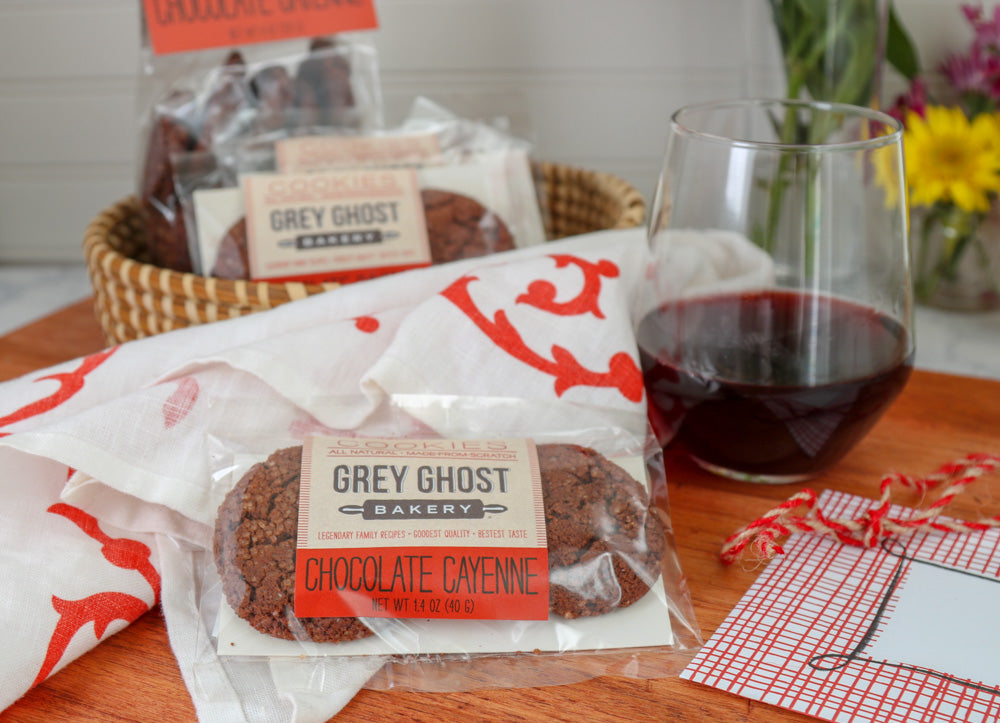 We think the best way to say 'I love you' is with cookies.  And if your special someone also enjoys wine, then what could be more fun than a cookie and wine pairing! 
For everyday enjoyment, we usually recommend enjoying our cookies with milk, coffee or tea. But a special occasion calls for a special beverage. And we think our buttery, made-from-scratch cookies are perfect with a glass of wine. But just like with any food and wine pairing, some cookies and wine go together better than others. 
So after much tasting and sipping (hard work, we know!), we've chosen our three favorite cookie and wine pairings. You can choose your favorite combo or for even more fun, try all three for truly sweet evening! 
Our sweet and spicy 
Chocolate Cayenne Cookies
pair well with a robust, fruity red wine. The best wine will stand up to the richness of the chocolate as well as the spice from the pepper. We love a South American Malbec to pair with the sweet heat in these cookies. Malbec has notes of vanilla and cocoa, making it a no-brainer to pair with chocolate. Plus the rich fruit flavors and low acidity get along well with the cayenne. If you or your Valentine is a red wine lover, these are the perfect way to end your romantic meal.
Our buttery
Lemon Sugar Cookies
with candied lemon peel make us want to exclaim "Yes-way, 
Rosé
!" Not only does the pretty pink wine feel celebratory, but it is one of the best wines to drink with citrus-flavored desserts. The citrusy-floral notes of a Ros
é
are natural complements to lemon, lime and grapefruit in many dishes. We love a medium-dry Rosé that's just sweet enough to enjoy with our best-selling cookies. If you prefer citrus desserts like Lemon Meringue Pie or Lemon Bars, you'll love this combination.
We love a sparkly, slightly sweet Prosecco paired with our
Cranberry Orange Cookies.
This combination was inspired by decadent cheese platters, filled with rich cheeses, whole nuts and dried fruits. Add a bottle of bubbly and you've got an easy,elegant way to treat your Valentine. Our sweet and tangy Cranberry Orange Cookies feel right at home on the platter. With dried cranberries and toasted pecans folded into the cookie, a crisp, fruit-forward Prosecco is a great match. Drop in a ripe, red strawberry and it's a sweet Valentine's celebration!
So this year, forget about the roses and chocolates. Give your Valentine what they truly desire - cookies and wine!