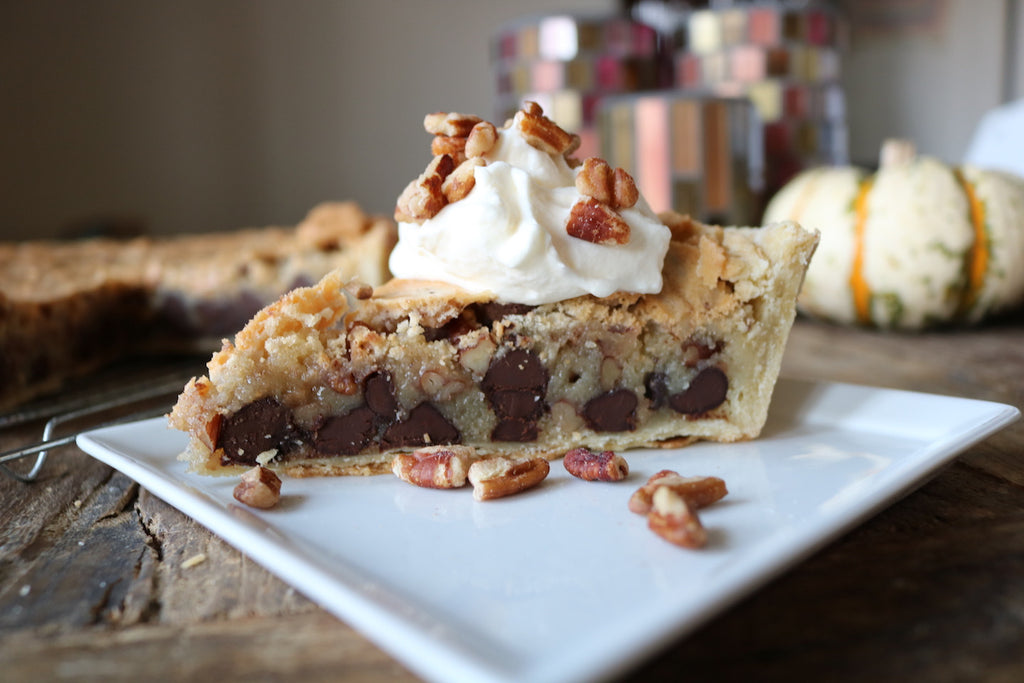 Thanksgiving in the South is a time to embrace traditions. While my family tends to mix the turkey recipe up each year, there are other dishes that we simply must have on the table. For our Southern spread, I always make my version of Derby Pie to serve alongside the other sweet treats. And the savory staples? Sweet potato casserole, brussel sprouts and rice keep making an appearance. 
When it comes to Sweet Potato Casserole topping, we are a house divided. Since half love the gooey marshmallows and half love the crunchy pecans, I just split the casserole right down the middle and do half and half to keep everyone happy! You can find my family recipe here.
One of the favorite sides I make is brussel sprouts. I simply saute minced garlic in olive oil, then add the shaved sprouts until they turn bright green. I drizzle with balsamic vinegar and sprinkle with red pepper flakes to serve. Even friends and family who will never touch a brussel sprout will like these!
Another one of our favorite old southern recipes you might recognize is Consommé Rice, which I make with Campbell's Consommé. This came out of a cookbook my mother had, but I have no idea which one as I only have a photocopy. If you happen to know which book it's from, let me know in the comments section! You can see the first time she made it was March 1965, so the book is at least that old.
And of course, my family has a few favorite desserts that we do for Thanksgiving. The Pecan Tart (basically Pecan Pie) from the 1999 issue of Bon Appétit appears every year but my three son's favorite dessert is definitely Derby Pie.
The Pawley's Island Derby Pie we make was a standard dessert at Louis Osteen's Pawley's Island Inn in the 1980's. The pie was created by Susan Felder, who left the Inn to open the Rice Paddy in Georgetown with another Pawley's Island Inn alum, Susan Hibbs.
Louis Osteen includes a recipe for the Pawley's Island Derby Pie in his cookbook, Louis Osteen's Charleston Cuisine. But I have tweaked our recipe over the years, adjusting amounts and substituting pecans for the walnuts. Sometimes I even cheat and buy ready-made pie crust!
Just like with our hand-crafted cookies, this pie is perfect with a hot cup of coffee or cold glass of milk.  Maybe next week it will become one of your Thanksgiving traditions as well! 
Katherine's Derby Pie
Serves 8-10
3/4 cup unsalted butter, melted
2 cups granulated sugar
3 large eggs
2 1/2 teaspoons vanilla extract
3/4 cups all-purpose flour
pinch of salt
2 cups semisweet chocolate chips
2 cups pecan pieces
2 9-inch pie crusts
Preheat the oven to 350 degrees.
Mix the melted butter and sugar together in a large mixing bowl.
Mix in the vanilla and eggs.
Add the flour and salt and combine.
Stir in the nuts and chocolate.
Divide the mixture between the two pie crusts.
Bake for 50 minutes.
Serve with whipped cream.