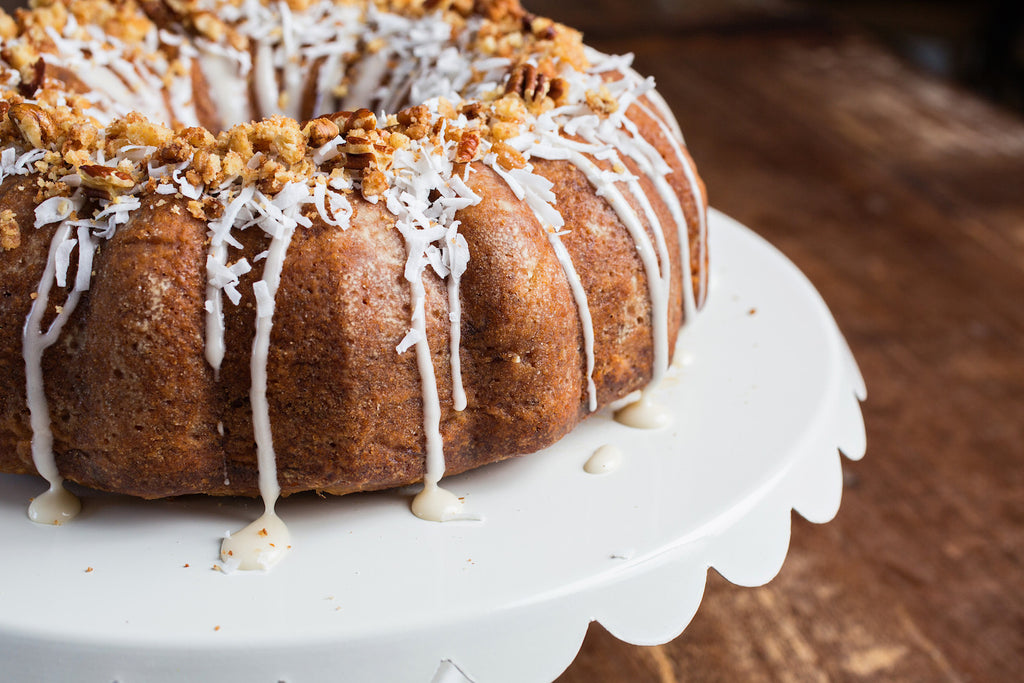 One of my favorite Christmas traditions when I was growing up was unloading our overstuffed stockings. My grandmother, and then my mother, made all of us identical red stockings with a white top, with our names embroidered in red on the white cuff. I'm not sure how old I was when I realized that not ALL stockings looked the same! Another favorite was making Christmas cookies and decorating them with mountains of colored sugar. Now that we've got all the cookies we need, I like to dive into different baking projects at the holidays. This year, we tried our hand at a Southern classic. Hummingbird Cake sounded like the perfect way to use our Cinnamon Pecan Cookies in a sweet, new way.
Even though it was invented in Jamaica, Hummingbird Cake has been a southern holiday staple since the 70's. The first known recipe for Hummingbird cake was published in Southern Living in 1978 by Mrs. L H Wiggins. Southern Living has always been an inspiration - I grew up reading my mother's copies before getting a subscription of my own. And we have lots of torn-out recipes from Southern Living over the years. 
Hummingbird Cake is the most requested recipe in the magazine's tradition, so we thought it would be fun to make a version of our own using our Cinnamon Pecan Cookies. Hummingbird Cake is chock-full of fruit and nuts and then covered with a rich cream cheese frosting. It's usually a layered cake but the holiday's are a busy time for us! We simplified the recipe by incorporating the same flavors into a classic bundt cake with a pourable cream cheese glaze. By folding our Cinnamon Pecan cookies into the cake itself and as a crunchy topping, you get an extra hit of holiday flavor. What a sweet new holiday tradition!
Cinnamon Pecan Hummingbird Cake
Serves 8-12
Cake:
2 cups all purpose flour
1 cup Grey Ghost Bakery Cinnamon Pecan cookies, finely ground
1 teaspoon baking soda
1 teaspoon salt
2 cups sugar
1/2 cup vegetable oil
3 eggs
2 teaspoons vanilla extract
1 8-ounce can crushed pineapple, undrained
2 cups mashed ripe bananas
1 cup chopped pecans, plus more for garnish
1 cup unsweetened coconut, plus more for garnish
Preheat oven to 350 degrees. Spray a 14-cup Bundt pan with nonstick spray, and dust with flour knocking out any excess flour.
Place flour, ground cookies, baking soda, and salt in a medium mixing bowl and whisk to combine. Set aside.
Place sugar and vegetable oil in a large mixing bowl, and beat with a hand mixer until well combined.
Add eggs to the sugar mixture, one at a time, beating well after each addition.
Add vanilla, and continue beating until mixture is pale yellow and fluffy, about 3-5 minutes.
Stir together pineapple, bananas, pecans, and coconut in a third small bowl.
Add to sugar/egg mixture, and stir until well combined. Add flour mixture, and stir just until combined.
Pour into prepared bundt pan, and bake in preheated oven for about 1 hour and 15 minutes, or until a toothpick inserted in the center comes out clean.
Remove cake from oven, and let sit on a wire rack for 15 minutes. Invert cake onto wire rack and let cool completely.
Glaze:
2 ounces cream cheese, cubed and softened
1 cup powdered sugar, sifted
1 teaspoon vanilla
About 1 tablespoon milk
Grey Ghost Bakery Cinnamon Pecan cookies, lightly crumbled
Chopped pecans
Unsweetened coconut
Place cream cheese, powdered sugar, vanilla, and milk in a small bowl. Beat until well blended, adding additional milk 1 teaspoon at a time until glaze is smooth.
Drizzle glaze over cake, and garnish with cookies, pecans, and coconut.