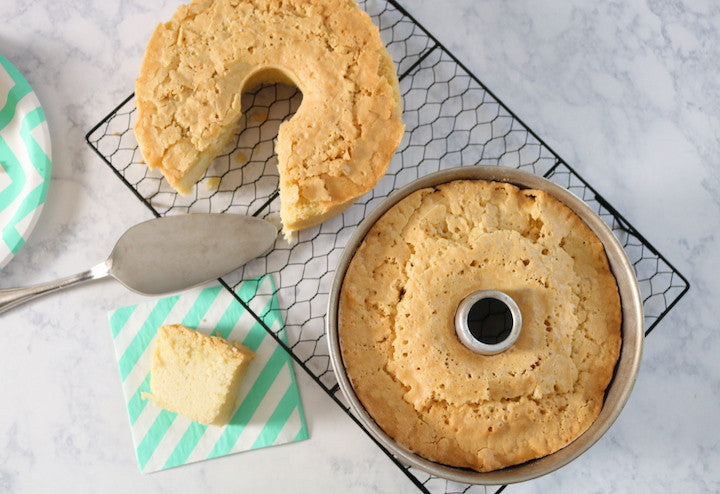 At about this time in September 2012, we delivered our first order of cookies to The Gourmet Shop in Columbia, SC. And we're happy to say they're still a steady customer! So since it's our birthday, we're celebrating the Grey Ghost way - with my mother's pound cake. I'd love to share the recipe with you all.
My mother, Barbara, passed away in 2005 but we still make her pound cake recipe for all our family birthdays. She got the recipe from a neighbor when she was a newlywed in Beaufort, SC. She made it for every birthday, took it to friends when someone was sick or if there was a death in the family, or just as dessert for all of us. And she would be furious if you neglected to make it when her birthday came around!
When my older brother was newly married and working abroad, his wife even called from overseas to get the recipe for his birthday. And though I've made sure to have it saved electronically, I still have the handwritten, vanilla-stained copy from my childhood.  
I used to try to tweak the recipe but finally realized that her method was the best one. I use the same recipe, method and style of pan. It's a traditional southern pound cake, using only 6 ingredients and baked in a tube pan. 
For the flour, I recommend using White Lily All-Purpose Flour for delicious results. And I also use a non-hydrogenated shortening now. Nutiva has a nice one made of coconut and red palm oils. Before you start baking, make sure you bring everything to room temperature, especially the butter and shortening.
When you're adding the eggs, you can go about it one of two ways. If you add the eggs and mix at a lower speed just until incorporated, it will make a smooth-topped cake, perfect for frosting. If you beat the eggs at a higher speed, the top will have a meringue-like, crunchy texture that's delicious served plain. The choice is yours.
The key to getting this cake right is to bake it at 300 degrees, for an hour and 50 minutes. And don't be tempted to open the oven until you think it's almost done! When finished baking, it will be golden brown and slightly cracked on the top. Use the old toothpick trick to tell if it's done in the center. If it comes out clean or with a few dry crumbs, you're good to go. Any wet batter means it needs to cook longer.
Once it's cooled, the pound cake is perfect eaten plain with a cup of coffee or tall glass of cold milk. It's also a good base for your favorite frosting or seasonal fruit and whipped cream. But if you really want to be decadent, try toasting a slice of the cake and topping with butter!  Any way you slice it, we hope you enjoy the taste of our family tradition.
Grey Ghost Birthday Pound Cake
Serves 16-20
6 1/2 ounces butter (1 3/4 sticks) 
6 1/2 ounces shortening (3/4 cup plus 1 tablespoon) 
3 cups granulated sugar
10 eggs
1 tablespoon vanilla extract
3 cups all purpose flour, sifted
Preheat the oven to 300 degrees F.
Line the bottom of a 12-cup tube pan* with wax paper. Grease the inside of the pan and the wax paper. Dust with flour.
Cream the butter, shortening and granulated sugar together until light and fluffy.
Add the eggs, 3 at a time, to the mixture, mixing each time until fully incorporated. Add 4 eggs the last time along with the vanilla extract.
Add the sifted flour to the bowl, 1 cup at a time, mixing until just combined.
Place the batter in the prepared tube pan.
Bake for 1 hour and 50 minutes or until a toothpick inserted in the center comes out clean.
Cool in the pan for 20 minutes. Remove from the pan and place on a rack until completely cool.
* You can also split the batter up into two smaller tube pans.  Test the cakes for doneness after 1 hour 30 minutes.