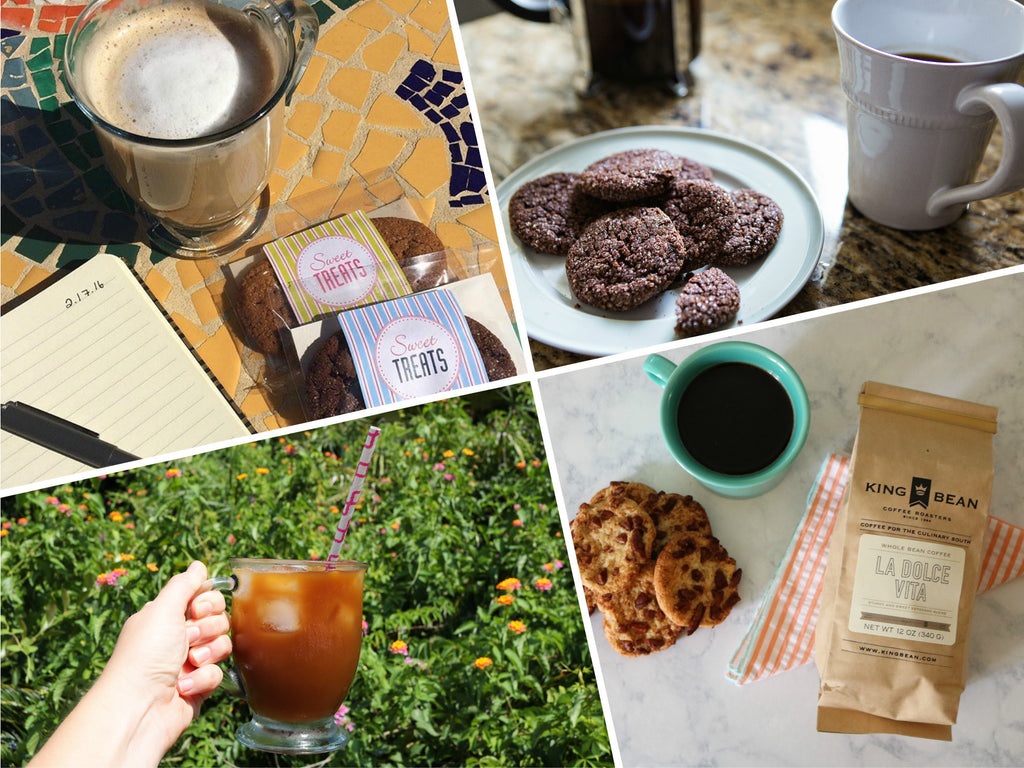 Coffee and Cookies – some things just naturally go together. If you've been following us the past few weeks on social media, you probably know that August is National Coffee Month. We've taken full advantage of the holiday to combine our love of caffeine and sweets! And when we're ready for coffee, we turn to another delicious local brand, King Bean Coffee Roasters. Started in 1994, King Bean is billed as "Coffee for the Culinary South," and is served in some of the best restaurants in the south. Lucky for us, they also expanded to retail so we can brew their delicious coffee at home.
I got to know co-owner Katie Weinberger once we moved the business to Charleston in 2014. Katie handles all of King Bean's marketing, events and social media - check out their Instagram feed for delicious coffee inspiration. We were both demo-ing our products at the same store one day. And since we had a mutual friend who had tried to connect us earlier, we already knew each other's names. Collaborating together was an easy decision because I love their coffee and their story. And coffee and cookies are a natural match, of course!  We became friends as well as collaborators, and it's exciting to help each other's companies succeed and grow.  
I love working with local companies in South Carolina because of the incredibly vibrant, entrepreneurial community that is so supportive of one another. It's such a great environment to grow a business. We've also added other collaborations - more gift boxes featuring Oliver Pluff Teas and a brand new flavor, our Almond Toffee cookie incorporating Dottie's Toffee.  
For our Coffee Lovers Box, we've included King Bean's La Dolce Vita espresso blend. With tasting notes of molasses and chocolate, it is delicious alongside our chocolate espresso and chocolate cayenne cookies. It's perfect for a housewarming, hostess or corporate gift for anyone who likes chocolate and coffee. So basically, everyone! 
Once you get your box in the mail, you've got to try our Chocolate Espresso Cookie Milkshake. Made with La Dolce Vita espresso, a splash of Kahlua and our chocolate espresso cookies, it is the ultimate adult milkshake. 
Chocolate Espresso Cookie Milkshake
1/4 cup brewed La Dolce Vita espresso, cooled*
1 pint chocolate ice cream
About 8-10 ice cubes
1/4 cup Kahlua liqueur, optional Chocolate syrup
4 Grey Ghost Bakery Chocolate Espresso cookies, lightly crushed
Place cooled espresso, ice cream, ice cubes, and Kahlua (if using) in a blender, and process until smooth.
Add additional ice if needed to get a frothy consistency.

Pour into a tall glass, and garnish with chocolate syrup.

Sprinkle crushed cookies on top or use whole cookies as a scoop.
*You can also substitute cold brew coffee. King Bean Coffee Roasters has a new Cold Brew Blend that has been our stand-by in these hot summer months!