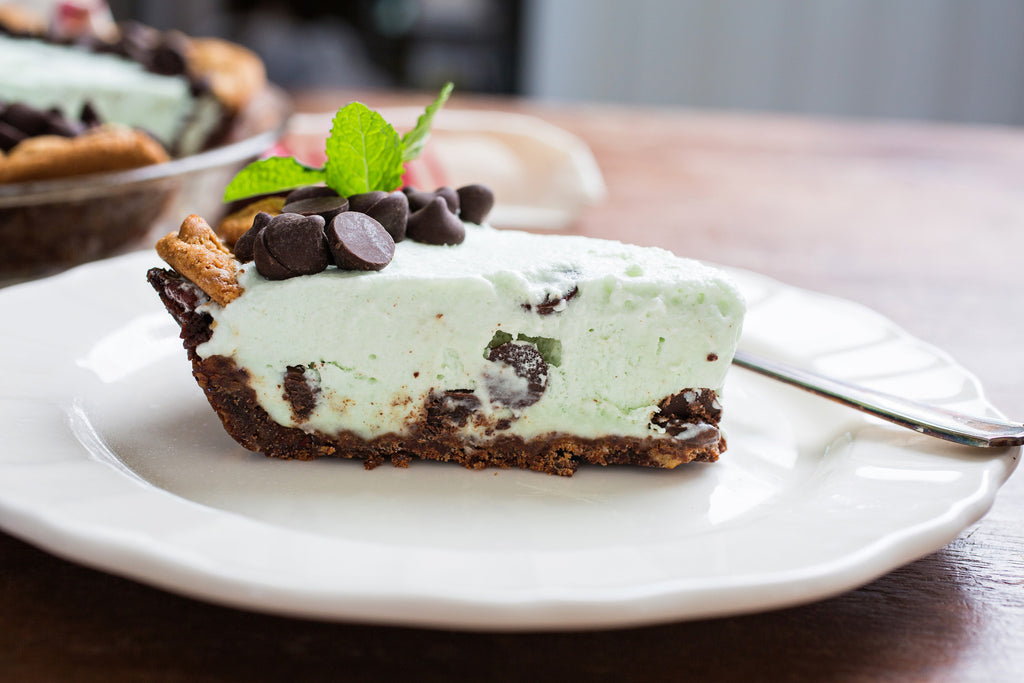 It's always so nice to pull a cold dessert out of the freezer on a sweltering summer day! So this summer, if you're looking for the perfect southern dessert, look no further than our Mint Julep Chocolate Chip Icebox Pie. With creamy, refreshing mint and a decadent chocolate chip cookie crust, it combines all the best flavors of the south. 
When I was young, we had a hedge of mint that took over the flower bed so I've always loved the flavor and aroma of mint, especially when combined with chocolate!  When we were brainstorming on ideas for our icebox pie, I knew I wanted to combine the freshness of mint with our Chocolate Chip Cookies.
Icebox pies get their name from the forerunners to refrigerators, called Iceboxes.  Our version of icebox pie combines so many wonderful elements. The star of the show is the Mint Julep base, created with an intense Mint Bourbon Simple Syrup. We always use fresh mint for the best flavor. A bottled extract tends to taste more like candy than a mint julep. We like to make a double batch of the syrup to use in cocktails or to just sweeten our tea in the afternoon. You can do this in large batches and let it cool ahead of time. It will last indefinitely in the refrigerator.
For the cookie crust, we use our southern twist on the chocolate chip cookie. I grew up making Toll House cookies with the recipe from the back of the bag, but over time, I put my own spin on it. In the bakery, we use bittersweet chocolate instead of semisweet because semisweet makes the cookie sweeter than I like. We added pecans because a) everything is better with pecans and b) I used to shuck pecans with my dad so there are great memories there.  We started adding them into our chocolate chip cookies way back when. I love the chewiness the nuts add to the cookie.  They also add great flavor to the cookie crumb base of the icebox pie.
Once the pie is complete, you can store it in your modern-day icebox for a couple of days. It's the perfect dessert for easy, summer entertaining. We hope you love it as much as we do!
Mint Julep Chocolate Chip Icebox Pie
Serves 6-8
Mint Bourbon Simple Syrup:
1/2 cup water
1/2 cup sugar
2-3 large sprigs of mint
About 1/2 cup bourbon
To make mint simple syrup, place water and sugar in a small saucepan. Heat over medium heat until sugar is dissolved. Turn off heat and add sprigs of mint to the sugar water. Cover and let steep for about 10-15 minutes. Remove mint and discard. Let cool.
When simple syrup is cool, place in a measuring cup and add enough bourbon to make 1 1/2 cups of syrup and stir to combine.
Crust:
2 cups Grey Ghost Bakery Chocolate Chip cookie crumbs*
1/4 cup unsalted butter, melted and cooled
Preheat oven to 400 degrees F.
Stir cookie crumbs and butter together in a small bowl.
Press cookies into the bottom and sides of a 9-inch pie plate.
Bake crust in preheated oven until firm and brown, about 10 minutes. Remove from oven and let cool completely.
*We've found that the best way to crush the cookies is simply to pulse them in a food processor until crumbly.
Mint meringue:
1 1/2 cups of mint bourbon simple syrup
3 egg whites
1 3/4 cups heavy cream
3-5 drops of green food coloring
1 cup chocolate chips, plus additional for garnish
6-8 Grey Ghost Bakery Chocolate Chip cookies, halved
Fresh mint sprigs 
Place egg whites in bowl of stand mixer. Beat until stiff peaks form.
Meanwhile, place simple syrup back in a saucepan, and bring to a boil. Boil until temperature reaches around 210 degrees F, and syrup is reduced to about a cup.
While mixer is running, slowly pour syrup into egg whites. Continue beating until whites are fluffy and bowl is no longer warm, about 7-10 minutes.
In another bowl, beat heavy cream with the food coloring until medium peaks form.
Gently fold cream into meringue in thirds until well combined and no streaks are visible. Fold in 1 cup of chocolate chips.
Scoop meringue on top of cooled pie crust, and push cookie halves around edge of pie. Sprinkle top with chocolate chips. Freeze pie at least 2 hours, and up to overnight.
To serve, garnish with fresh mint.