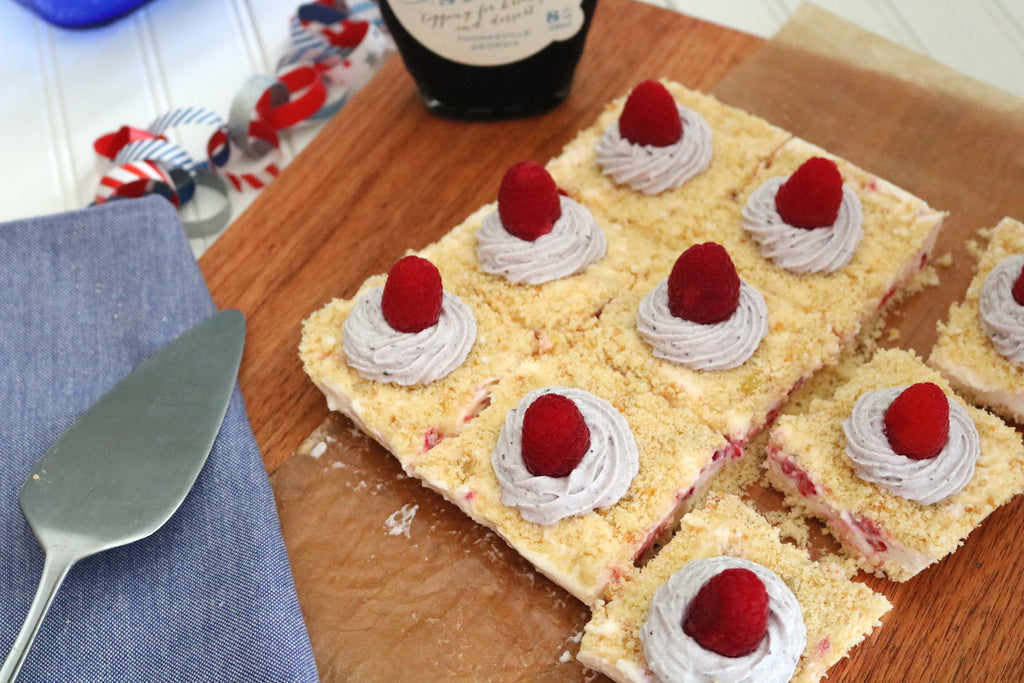 Summer has officially started and the hot weather is here to stay! So we wanted to share one of our favorite no-bake recipes with you. Crumbled Lemon Sugar Cookies give a sweet, yet slightly tart, base to these No-Bake Lemon Berry Cookies Bars. A sweet red, white and blue dessert is the perfect treat for your Fourth of July celebration. 
We've made desserts before with a cookie crust, but we decided to double it up and use crumbled Lemon Sugar cookies for the crust AND for the topping. The extra hit of lemon flavor also helps the cookies hold up in the heat. In between two layers of cookie crumbs, we've folded fresh raspberries into the slightly sweet cream cheese base.
And while a food processor and hand mixer make quick work of this dessert, you could just as easily make this one completely unplugged! It's easy to crush the cookies in a plastic bag and use a sturdy whisk for the cream cheese mixture. Once all the components are assembled, just pop them in the fridge to firm up overnight.
Right before serving, we like to top these cookie bars with Blueberry Whipped Cream. It's super simple to make and adds an added layer of flavor to the dessert. You simply whip heavy cream with a bit of powdered sugar and one of our favorite products, Blueberry Syrup from Blackberry Patch. Blackberry Patch makes a line of delicious, small-batch syrups in Thomasville, Georgia. And you can find more delectable recipes for using their syrups on their website.
We chose their 3-ingredient Blueberry Syrup to pair with our Lemon Cookies in this no-bake dessert. Emily McCarthy inspired us to use this pairing last summer with her boozy cocktail recipe! She combined our cookies with ice cream, Cathead Vodka and and Blueberry Syrup for one of her signature Ice Cream Social cocktails. Berries, Cream and our Lemon Sugar Cookies are a delicious combination and we couldn't wait to feature it in a summer dessert.
Are you making a dessert for the Fourth of July?  If so, we hope you will try out these No-Bake bars for your friends and family.  It's a sweet way to celebrate one of our favorite holidays!  
No-Bake Lemon Berry Cookie Bars
Makes 9 squares
Bars:
2 cups Grey Ghost Bakery Lemon Sugar Cookie crumbs*, divided
1 tablespoon melted butter
1 8-ounce package cream cheese, room temperature
1/8 cup heavy cream
1/2 packet Knox Unflavoured Gelatin
1/4 cup granulated sugar
1/4 teaspoon vanilla extract
1/2 cup fresh raspberries plus extra for garnish
1 cup Blueberry Whipped Cream (recipe below)
Spray an 8x8 inch square pan with non-stick spray. Line the pan with parchment, leaving overhang on two ends. Spray the parchment with the non-stick spray.
Combine 1 1/2 cups of the cookie crumbs with with the melted butter.
Spread the crumbs evenly in the bottom of the dish and press into the dish. Refrigerate for 30 minutes or until firm.
Place the cream cheese, heavy cream, gelatin, granulated sugar and vanilla extract in a large bowl and beat until smooth.
Fold in the half cup of raspberries.
Spread the cream cheese mixture evenly over the cookie crumbs.
Top with the remaining cookie crumbs.
Refrigerate for 6 hours or overnight.
To serve, top with the Blueberry Whipped Cream and a fresh raspberry.
*We've found that the best way to crush the cookies is simply to pulse them in a food processor until crumbly.
Blueberry Whipped Cream:
1 cup heavy cream
2 tablespoons powdered sugar
2 tablespoons Blackberry Patch Blueberry Syrup
Place the heavy cream and powdered sugar in a mixing bowl.
Whip until soft peaks have formed.
Add the Blueberry Syrup and whip until medium peaks form.
Refrigerate until serving.