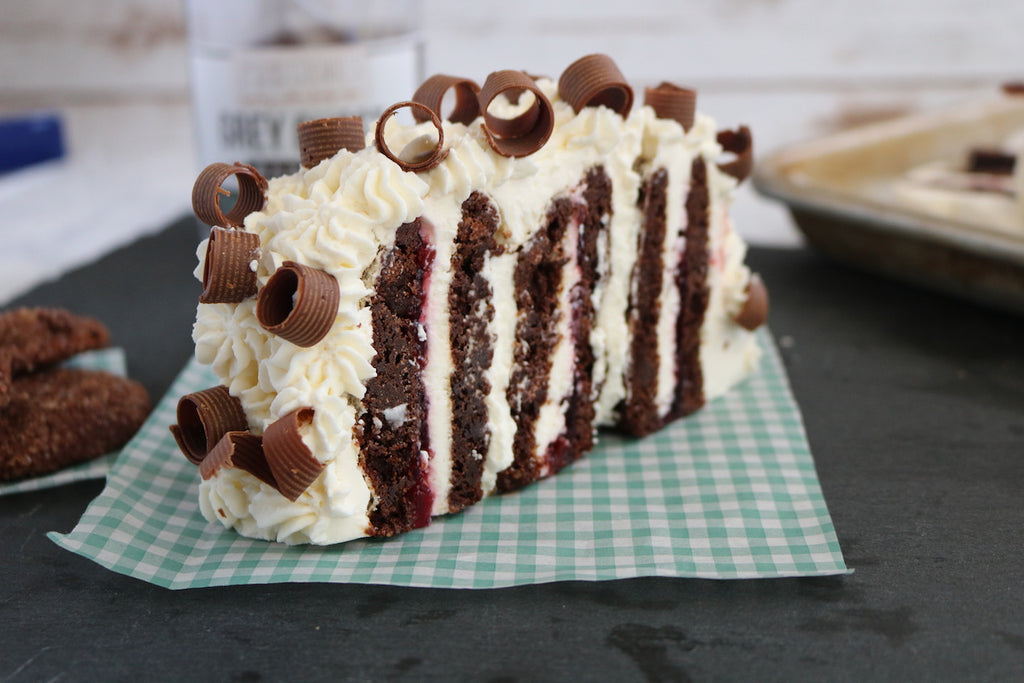 I kind of have a thing for chocolate and cherries! It started when I worked for a pastry chef in Pawleys Island after college graduation. He was a classically trained German pastry chef and he made all kinds of fancy pastries. But my favorite dessert was a killer Black Forest Cake that was divine. And even now, my favorite ice cream is Cherry Garcia from Ben and Jerry's. Using my favorites flavors as inspiration, we layered Chocolate Espresso Cookies with Sour Cherry Jam and real whipped cream for this simple, yet addictive, Cherry Chocolate Cookie Icebox Cake. 
Our icebox cake was inspired by Nabisco's FAMOUS Chocolate Refrigerator Roll. I started making this as a kid, using the recipe right off the chocolate wafer box! They're the thin, Oreo-flavored cookies without the cream. Once upon a time, it was just whipped cream between each cookie, making a log with the cookies stacked vertically. After it spends time in the freezer, it basically turns into an ice cream cake. It was definitely a childhood favorite.
The original recipe only has 3 ingredients: vanilla, cream and cookies. And while we've fancied it up a bit, we are still only using 5 total, 6 if you count the optional chocolate garnish. Instead of the chocolate wafers, we've bumped up the flavor with our decadent Chocolate Espresso Cookies. The cookies are surrounded by slightly sweetened vanilla whipped cream and complimented by tangy cherry jam. And I do love the Sour Cherry Jam from Stonewall Kitchen in this cake. It's got a bright flavor that cuts through the richness of the cream to balance the whole dessert.
The best part of this cake is that there is absolutely no baking involved and it's made well in advance. The hardest part is making whipped cream, which isn't hard at all if you have a mixer. I've seen some people make this with Cool Whip but I'm a whipped cream snob! I use heavy cream, granulated sugar and vanilla extract. I prefer organic heavy cream when I can find it and the vanilla extract has to be pure. Neilsen-Massey is great for home use. I don't really follow a recipe when I make whipped cream at home but I've shared my basic version below. You can just add more or less sugar depending on your tastes.
I like to make the icebox cake on sheet pan and transfer it to pretty platter to serve. A little extra whipped cream before serving looks nice. I also garnish with small chocolate curls to make it pretty, but that's all optional.  Keep it simple this summer and enjoy!
Cherry Chocolate Espresso Cookie Icebox Cake
Icebox Cake:
Makes 4-6 servings
1 8-ounce bag Grey Ghost Bakery Chocolate Espresso Cookies
Vanilla Whipped cream (recipe below)
6 ounces Stonewall Kitchen Sour Cherry Jam
Milk Chocolate curls, for garnish (optional)
Line a sheet pan with parchment or wax paper.
Make cookie sandwiches, working two cookies at a time.
Spread one cookie with cherry jam. Add a spoonful of the whipped cream and top with another cookie.
Turn the cookie sandwiches upright and line up 3 per row, forming 2 rows.*
Spread whipped cream between the sandwiches. Then cover the all the cookies with whipped cream, forming an elongated loaf shape.
Place the 'cake' in the freezer for for at least 24 hours and up to 1 week before serving. Once the outside is frozen (about 4 hours), you can cover with plastic wrap.
To serve, remove from the freezer and place on a tray for serving.
Slice and garnish with more whipped cream and chocolate curls, if desired.
*You can also line up all the cookie sandwiches in a row, forming a log. Slice on the diagonal to serve.
Vanilla Whipped Cream:
2 cups heavy cream
1/4 cup granulated sugar
1 teaspoon pure vanilla extract
Place the heavy cream and granulated sugar in the bowl of a stand mixer.
Whip the cream until medium peaks form.
Add the vanilla and whip briefly to combine. Add more sugar if a sweeter cream is desired..