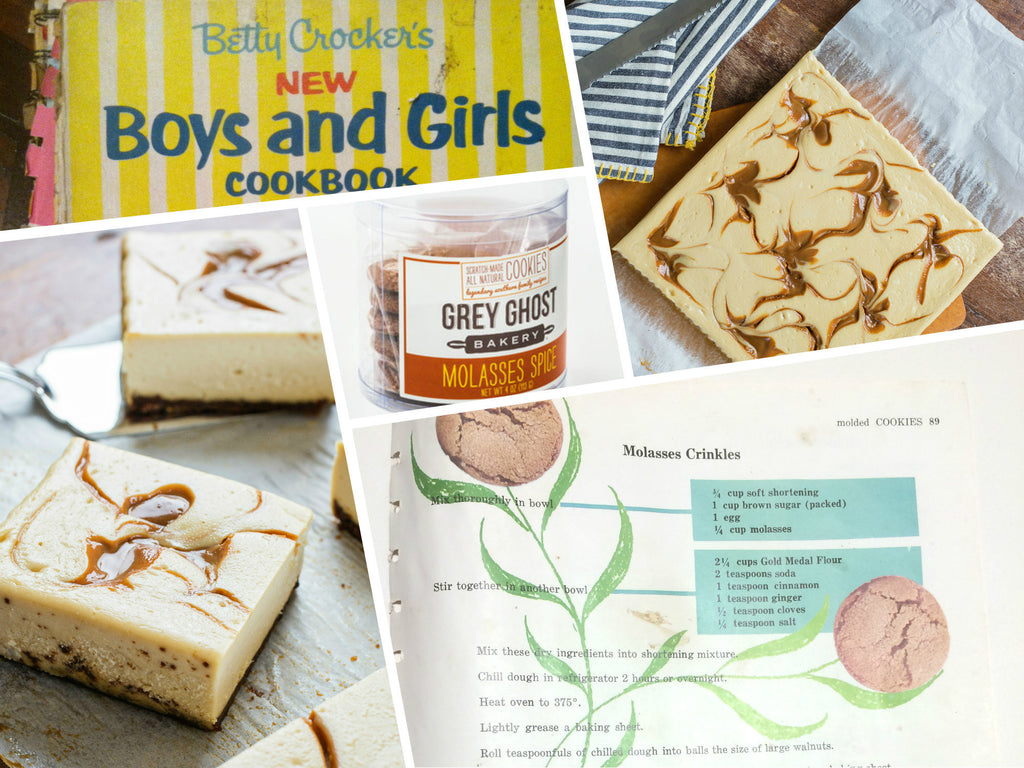 Cooking with Molasses Spice Cookies:  
People love our Molasses Spice cookies year-round, and we love when we hear that folks haven't tasted a cookie like this since their grandmothers used to make them! I started making a similar cookie when I was in the third grade...a friend gave me Betty Crocker's Cookbook for Boys and Girls for my birthday that year. The original recipe was called Molasses Crinkles and I loved the soft, chewy texture.
Fast forward from my 8th birthday to days with my three little boys. I often would bake cookies for them and would let them help in the kitchen. They either got to sit on the counter by me, or when they were tall enough, they stood on chairs next to the mixer. Our youngest, Manning, took it upon himself at an early age to do things without asking, like fixing himself scrambled eggs when he was about four. We didn't know what he was up to until we walked in the kitchen as he was standing on a chair in front of the stove. When he was a little older, he started making cookies too. The Molasses Crinkle recipe was one of his favorites, and the rest of us favored eating them too! 
As crazy as it sounds, that children's cookbook followed me around for that last 45+ years. In the last few years, it was falling apart and I kept it together with rubber bands. I had the cookbook in the bakery in October, and in the 1000 year flood that came through South Carolina, we had some roof leaks in our offices. Amazingly, very little was damaged, but my Betty Crocker cookbook was damp and mildewed by the time we got in to clean things up. But even more amazingly, the page of the book with the Molasses Crinkles recipe did not get wet and it will soon be framed to hang on the wall.
Our current cookie is somewhat different than this original recipe, but Betty Crocker's cookbook inspired one our most popular flavors. As you can imagine, we have a lot of cookies in our house and I love incorporating them into other recipes. Cheesecake is one of my favorite desserts and the sweet/tangy creaminess goes well with the molasses flavor in our cookies. These cheesecake bars have a caramel swirl that perfectly complements the ginger spice in our cookies. I hope you enjoy them as much as we do. 
Molasses Spice Caramel Cheesecake Bars
Makes 9 squares
Crust:
2 cups Grey Ghost Bakery Molasses Spice cookie crumbs
1/8 cup unsalted butter, melted and cooled 
Preheat oven to 350 degrees F.
Spray bottom and sides of an 8-inch square baking pan with nonstick spray.
Stir cookie crumbs and butter together in a small bowl.
Press cookies into the bottom of pan.
Bake in preheated oven until crust is starting to brown and is firm to the touch, about 10-12 minutes. Remove from heat and cool. Leave oven on. 
Filling:
4 8-ounce packages cream cheese, room temperature
1 cup brown sugar, packed
2 tablespoons unsalted butter, melted
5 eggs
1 teaspoon vanilla extract
Caramel sauce
Heavy cream
Place cream cheese and brown sugar in a large bowl, and beat until smooth.
Beat in butter until combined.
Beat in eggs, one at a time just until combined.
Beat in vanilla.
Pour filling over crust in pan.  
If caramel sauce is too thick, thin with a little heavy cream until it is the same consistency as the batter. Drizzle caramel sauce over top of filling, and swirl caramel through filling with a knife or toothpick.
Carefully place pan in a larger roasting pan. Add enough hot water to come up halfway up sides of baking pan. Place pan in the oven, and bake until filling is set but still jiggly in center, about 1 hour.
Remove pan from the water bath, and let cool slightly on counter. Place in refrigerator overnight to chill uncovered.
Cut into bars or squares to serve.