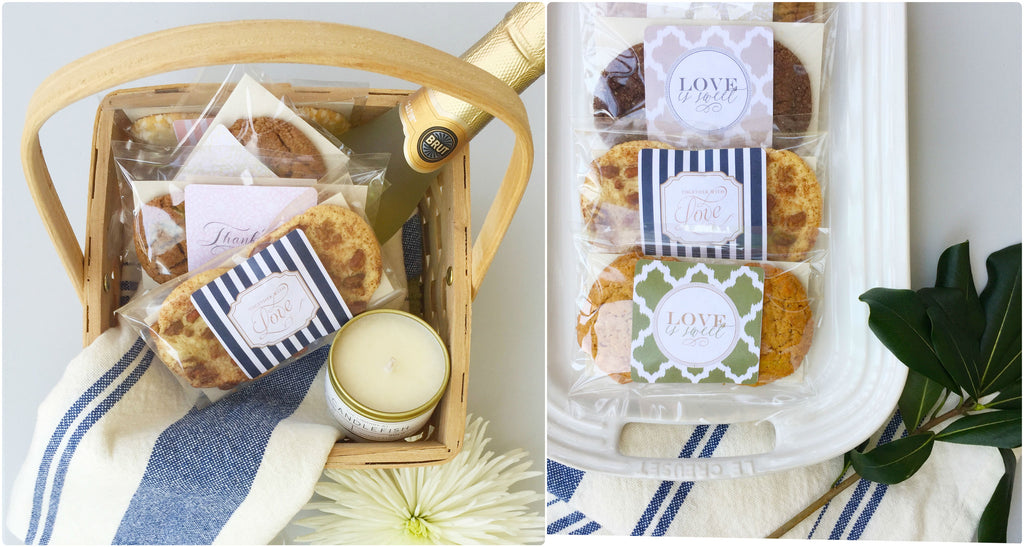 When we developed our custom cookie 2-packs, our goal was to help you tell your story through a unique sweet treat. Whether it's a chocolate 'Thank You' for treasured employees or a 'Happy birthday' message for a kids birthday, you can show thanks and caring through our cookies. And what bigger story of love and gratitude than a wedding?
A classic example of stories told through wedding details is the tradition of "Something old, something new, something borrowed, something blue." Its a beautiful way for the bride to incorporate elements of her story into her wedding day. But weddings really celebrate the couple as a whole and they can be such a unique expression of the couple's story at each step of the process. From the décor down to the menu, each choice can reflect the couple's tastes and background. And it even gets started before the wedding – with creative save the dates and sentimental wedding invitations. Once you get to the big day itself, the possibilities for telling your story are endless.
We are so blessed that brides across the country have embraced our hand-crafted southern cookies at every step of the journey. We've seen our custom two-packs enjoyed from the bachelorette party to the reception favors and even the baby shower - but that's a whole other post!
Recently our custom two-packs were featured in the destination edition of Twirl New York. If you are planning a wedding and haven't heard of Twirl, you will love their creative suggestions for telling your wedding story. Once a year, they put out their destination wedding guide and several South Carolina brands were featured as perfect welcome bag additions. Our cookies were in tasty treats, of course!
The story of the Grey Ghost company will definitely resonate if you are celebrating your wedding in the south or if you want to bring the southern elements to your location. Our custom and semi-custom wedding inspired packaging designs were all created by
Lettered Olive
– an amazingly talented Charleston stationer. As the premier choice for couture wedding invitations, we were thrilled to showcase their designs for our delicious favors.   With their labels and our cookies, you can tell your wedding story with your words, your favorite flavors and your wedding colors.
You can choose one of their many semi-custom designs (a few are featured above), or you can completely design your own fully-custom label. If you're planning a wedding, get in touch! We'd love to help you tell your story through our cookies.