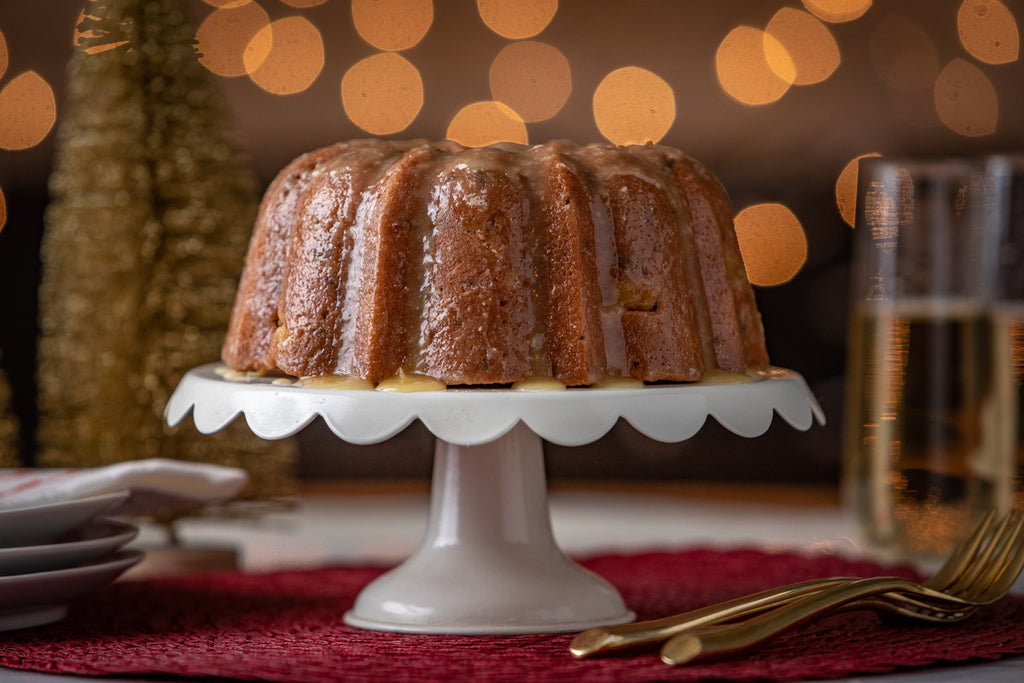 It probably comes as no surprise that holiday baking is one of my favorite family traditions. When I'm not baking cookies at the bakery, I'm in my kitchen at home creating something for my family, like this German Bundt Cake with Rum Glaze recipe.
This time of year, I often turn to my collection of old family recipes for inspiration. I like to take those traditional recipes and give them a modern twist, and that's exactly what I did with this recipe. I took our family's recipe for German Bundt Cake, and combined it with Rum Cake which is another of my holiday favorites. 
My mother used to make this German Bundt Cake, and while Daddy baked more often than Mama, she could make a mean cake. My father's sister, whom we called Aunt Sister (yep, Southern, I know--had an Uncle Bubba on the other side of the family too!) used to send us a big fruitcake each year when I was little. I recall it being very dense, and very unpleasantly boozy to my childhood sensibilities. The fruitcake was also very heavy and dark.
So, when Mama started making the German Bundt cake recipe, it was a much more appealing version of a fruitcake. This cake also reminded me of one of my favorite cookies too--what we called Japanese Fruitcake Cookies. They were buttery, chewy nuggets with fruit and nuts, but unfortunately, I've lost that recipe. Our Cranberry Orange cookies were actually developed as I tried to recreate the Japanese Fruitcake cookies from memory. If anyone out there has that recipe, please do share it with us! 
Rum cake is another holiday tradition that I love because who doesn't like to get a boozy cake for a gift?! The typical recipe you will find for these cakes uses boxed yellow cake mix and instant pudding to make them super moist. Instead, I thought that the buttery German Bundt cake recipe would make a much better base for the sugary rum syrup that is poured all over the hot cake. As an adult I can appreciate the rum glaze much better than I could as a little thing trying to eat my aunt's fruitcake! This recipe is for 6-cup bundt pan, which is the perfect size for gift giving at the holidays. 
In the Grey Ghost Bakery, we pride ourselves on using real, premium ingredients. So, for this recipe I like to use real maraschino cherries. If you haven't used them before, you should definitely seek them out. They are a far cry from the corn syrup and artificially colored ones that you typically find! I'm partial to the ones from our friends at Stonewall Kitchen's Tillen Farms. 
I hope you will try this recipe, and that it becomes a tradition in your family too. Happy holidays from all of us at Grey Ghost Bakery!
German Bundt Cake with Rum Glaze
2 cups sifted flour
1/2 teaspoon baking powder
1/2 pound unsalted butter, room temperature
1 cup sugar
3 eggs
1 teaspoon vanilla
1 cup chopped pecans
2 pieces of pineapple, sliced
1/2 cup maraschino cherries, sliced in half
Rum glaze (below)
Preheat oven to 300 degrees F.
Grease a 6-inch tube or bundt pan and set aside.
Whisk the flour and baking powder together in a medium mixing bowl. Set aside.
Place the butter and sugar in the bowl of a stand mixer, and beat until creamy.
Add the eggs one at a time, beating well after each addition.
Add the vanilla, and beat to combine.
Add the flour mixture, and beat on low speed just until combined.
Stir in the pecans, pineapple and cherries.
Pour batter into the pan, and place in the preheated oven. Bake for about 1 hour, or until a toothpick inserted in the center comes out clean.
Remove cake from the oven, and let cool slightly on a wire rack for about 10 minutes. Use a toothpick or skewer to poke holes in the bottom of the cake.
Slowly pour about half of the rum glaze all over the hot cake, allowing the glaze to soak in. Invert the cake onto a plate, and poke holes all over the top of the cake. Slowly pour the rest of the rum glaze over the top of the cake, until the glaze is completely absorbed.
Let cool completely, and then cover and store at room temperature.
Rum Glaze
1/2 cup unsalted butter
1/4 cup water
1 cup sugar
1/4 teaspoon salt
1/2 cup dark or spiced rum
While cake bakes, make the glaze.
Melt butter in a small sauce pan over low heat.
Add the water, sugar and salt and increase the heat to medium-high. Bring the mixture to a boil, and cook stirring constantly for about 5 minutes.
Remove pan from the heat, and stir in the rum.