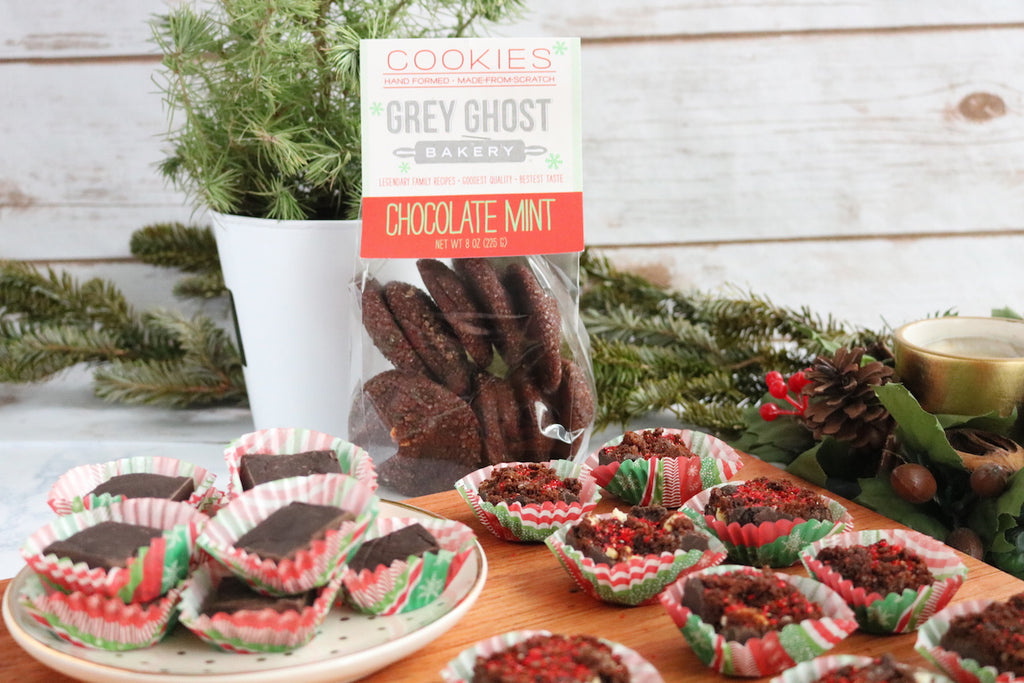 Sweet Seasons Greetings! It's our busiest time of year and we've been in the kitchen around the clock, baking up cookies to send across the country. But once the final orders are out the door, we'll head home to spend time with our families. One of my favorite family traditions is to make old-fashioned fudge using my Aunt Sally's recipe. And this year, I'm baking up some sparkly Christmas Cookie Fudge using our new seasonal flavor, Chocolate Mint. 
My Aunt Sally made fudge the old-fashioned way and it might be the best fudge you have ever tasted. There are a lot of fudge recipes out there with shortcuts – everything from marshmallow fluff to condensed milk. But Aunt Sally made her fudge using simple ingredients and a traditional method. We keep her recipe at our beach house in Pawley's Island. The card is weathered and worn, taped up inside a cabinet with no instructions - just an ingredient list and amounts for making multiple batches.  
But my whole family knows how to make it! We whip up a batch almost every time we're at the beach house, but it's a must on game nights. We play board games and cards and nibble on the dense, chocolate fudge. We love it on holidays too, but for us, it's a year-round treat.
The beach house recipe is simple, with only has 5 ingredients. The trickiest part is getting it to the right temperature. You can use a candy thermometer to get it precisely to 238 degrees. Or you can test it as you go along until it reaches the "soft-ball stage," which is how we always made it at the beach house. Most of the time, we get it just right. But sometimes it doesn't set up or it becomes rock hard. We'll eat it no matter what - it's that tasty!
I wanted to stay true to my Aunt Sally's recipe but also give an extra boost of flavor and texture to my Christmas fudge this year. Originally, we thought about folding the cookies into the fudge itself. But since you have to beat the mixture pretty vigorously, we decided against this method. Instead, it's best to make the fudge exactly the way my Aunt Sally did and add the cookies at the end. Once the fudge is in the pan, still warm and pliable, just press crumbled Chocolate Mint Cookies into the top of the fudge. Then let it set before cutting it into pieces and adding a sprinkle of festive colored sugar.
So if you're making fudge this year, try adding some Grey Ghost cookies to the top. The flavor and texture make it a fun addition to the dessert table. I hope you love my Aunt Sally's recipe as much as we do! 
Christmas Cookie Fudge
makes 20-24 pieces of fudge
2 cups sugar
1/4 cup cocoa powder
1 cup whole milk
3 tablespoons butter
1 teaspoon vanilla
4 Grey Ghost Bakery Chocolate Mint Cookies
Red or Green decorating sugar
1. Spray an 8x8 inch baking pan with non-stick spray or grease with butter.
2. Place the sugar, cocoa powder and whole milk in a saucepot and stir to combine.
3. Bring the mixture to a slow boil, stirring constantly. As soon as it boils, stop stirring. Reduce the heat as needed to keep a steady, slow boil.
4. Let the mixture boil until it reaches 238 degrees or the sugar reaches a 'soft-ball' stage.*
5. Remove the sugar mixture from the heat and let cool to 110 degrees.
6. Add the butter and vanilla. Using a wooden spoon, beat the fudge until it is thickened and is no longer shiny.
7. Spread the fudge into the prepared pan.
8. Sprinkle the cookies over the fudge and push down so the crumbs stick into top layer of the fudge.
9. Place in the fridge to firm up, at least 4 hours.
10. Remove from the fridge and slice into 1 inch squares. Sprinkle with red or green decorating sugar. Serve squares in small paper candy cups.
*To learn how to determine the soft-ball stage in candy making, you can find more information here. https://www.thespruce.com/making-candy-without-a-candy-thermometer-520309
And from our family to yours:
We wish you a Merry Christmas and a Happy New Year!